Baptist Health South Florida has partnered with South Florida Commuter Services (SFCS), a program of the Florida Department of Transportation, to provide transportation related programs and services to employees.

---
South Miami Hospital
Employees who use transportation options positively contribute to improve air quality, arrive to work with less stress from traffic congestion, and improve mobility in the area. + Read More +
OPTIONS FOR GETTING TO WORK
Transit riders receive a 50% subsidy on their monthly Corporate Easy Card. The SMH Shuttle gives you a quick jump from the Metrorail station to the hospital's front door, and all transit riders can rely on the Emergency Ride Home Program to serve as their commuter insurance in case of an emergency or unscheduled overtime.
West Kendall Carpool Program
There are many benefits to carpooling to work including saving money on your monthly commuting costs. West Kendall Baptist Hospital (WKBH) also offers special benefits for employees that carpool to work or are dropped-off. + Read More +
CARPOOL PROGRAM
WKBH rewards registered carpoolers with complimentary valet parking. No more searching the lot for a spot.
In order to participate in the program, two or more WKBH employees must be present in the vehicle when arriving at the hospital and employees must carpool to work at least three (3) days per week. Program participation is convenient and rewarding.
CLICK HERE to register your carpool.
This registration will also enroll you in SFCS Emergency Ride Home (ERH) Program as well as generate your carpool parking permit which allows you to use the complimentary valet parking. The carpool registration is good for six months. SFCS will send a courtesy renewal notification one month prior to the carpools expiration. Upon the renewal, SFCS will send the carpoolers a new carpool parking permit with an updated expiration date.
When using the valet parking, vehicles must display a valid SFCS carpool parking permit in the vehicle. One permit will be issued per carpool team. So if you switch vehicles, remember to also switch your carpool permit. Valet parking may NOT be used on days you do not carpool to work.
CARPOOL DROP-OFF PROGRAM
WKBH also rewards registered employees who carpool with a non-WKBH employee and are dropped off at work with monthly prize giveaways. In order to participate in this program, employees must be dropped off a minimum of three (3) days per week. Employees must acknowledge their drop off participation in writing to assure their compliance to the program.
CLICK HERE to register as a drop off carpooler.
This registration will also enroll you in SFCS' Emergency Ride Home Program and WKBH's monthly drawings.
Carpool Matching Program
Want to carpool but don't have anyone to carpool with? No problem, we can help you find the perfect match! + Read More +
Baptist Health South Florida's transportation partner, South Florida Commuter Services offers a carpool matching service that can help you find the perfect carpool match.
Here's how it works:
Complete a short registration form.
Receive information on your matches.
Text, e-mail or call your matches.
Set up a time to meet and discuss your commute.
Register your carpool and start carpooling.
CLICK HERE to find your carpool matches.
* All information is kept confidential and is only used for ridematch purposes. No personal information will be provided to your matches.
South Florida Vanpool
Commuting more than 30 miles a day to get to work? Joining a South Florida Vanpool can help you save on your monthly commuting costs + Read More +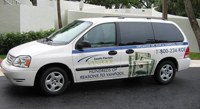 The South Florida Vanpool program provides groups of five to fifteen people with a 6, 9, or 15 passenger vehicle to use during their daily commute to and from work.
A vanpool consists of a month to month leased vehicle that includes a comprehensive insurance package with no deductible, bumper to bumper repair and maintenance, 24 hour roadside assistance, with backup vans in case of breakdown.
CLICK HERE if you are interested in more information on the South Florida Vanpool program.

Public Transportation Benefit Program
Baptist Health's Public Transportation Benefit program provides all regular full time and part time employees a 50 percent discount on transit ridership. + Read More +
This benefit provides employees a monthly Corporate Easy Card for unlimited ridership of Miami-Dade Transit buses, express buses and Metrorail. Employees may also obtain Metrorail's monthly parking permit that allows them to park at the Metrorail stations. Your share of the cost is paid through pretax automatic payroll deduction.
Miami-Dade Transit Riders: Miami-Dade transit riders will receive their initial Corporate Easy Card the month following the first monthly deduction. Fares are automatically loaded every month you participate in the program. There will be a $2 fee for the initial registration of the Easy Card and a $15 fee for the replacement of a lost or stolen card. Any transportation fees incurred by employees during this replacement period will be their sole responsibility. Please contact the Pay & Perks Service Center immediately to report lost or stolen cards in order to cancel it and issue a replacement card.
Tri-Rail Riders: The monthly pass allows for unlimited travel through the entire Tri-Rail and Miami-Dade Transit systems from the first day to the last day of the calendar month. Once you have enrolled in the program, you will receive instructions on the process to follow to have your regional monthly EASY card issued. You will need to visit a Tri-Rail photo station to obtain the EASY card and have your photo affixed to it. Your monthly fare will be automatically loaded each month as long as you are participating in the program.
You may cancel program participation in this program provided you give a 30-day notice in writing.
These benefits are for employees only, and passes cannot be used by family members or shared with other employees. If you have questions about the Public Transportation Benefit program, please contact the Pay & Perks Service Center at 786-662-7178, option 1. For Mariners Hospital, please call 305-434-3720.
CLICK HERE to sign up for the Public Transportation Benefit Program.
Mariners Hospital employees who take public transportation from Miami-Dade County to Mariners Hospital are provided the monthly Miami-Dade Transit Corporate Easy Card at no charge. The monthly Easy Cards may be used to ride the Dade-Monroe Express Bus (Route 301) from Florida City/Homestead to Mariners Hospital.
Transit Options
There are a variety of transit options available to Baptist Health South Florida employees including Miami-Dade Transit, the South Miami Hospital Shuttle,
and Tri-Rail. + Read More +
Miami-Dade Transit
CLICK HERE to get step by step directions to your work facility using Miami-Dade Transit.
South Miami Hospital Shuttle
South Miami Hospital provides an employee shuttle service to and from the main hospital and the South Miami Metrorail Station. Employees must have their ID badge in order to ride the shuttle.
Shuttle Service Hours: Mornings: 5:45a.m. – 9:30a.m.
Evenings: 2:45p.m. – 7:30p.m.
Pick up and drop off locations are in front of the main hospital by the Outpatient Diagnostic Center, and in front of the South Miami Metrorail Station by 70th street and Commerce Lane.
The Shuttle Service dispatch line is: 786-662-4000 Ext. 29030
Tri-Rail
CLICK HERE to get step by step directions to your work facility using Tri-Rail.
Emergency Ride Home Program
Get a free ride home from work when there's an emergency! + Read More +
The Emergency Ride Home Program provides commuters who carpool, ride transit, bicycle or walk to work at least three days per week with free taxi service home from work in emergency situations. Each registered program participant is allowed six free emergency rides per year within Miami-Dade, Broward, Palm Beach, Martin and St. Lucie counties 24 hours a day, seven days a week. Think of it as your "commuter insurance".
Sign up right now on line, or call Customer Service at 1-800-234-RIDE, and a representative will assist you. Once you are registered, you have the option to access your vouchers using the SFCS ERH Online Voucher System or receive hardcopy paper vouchers in the mail within seven to 10 business days.
Helpful Links
Looking for more information on transportation programs and services? + Read More +

511
Your source for live traffic information.

SAVINGS CALCULATOR
How much money could you save by sharing the ride?

CARBON CALCULATOR
Calculate your personal carbon emissions.

PARK AND RIDE
Looking for a convenient location to meet your carpool or vanpool group?